Undergraduate Research Symposium
April 13, 2022 (In-Person)
The Annual Spring Undergraduate Research Symposium is Georgia Tech's largest undergraduate research colloquium and a great opportunity to share your research with students and faculty from all over campus and gain valuable skills and presentation experience. A reception follows the event with prizes awarded to the top poster and oral presentations from each college and additional awards honoring the Outstanding Undergraduate Researcher (OUR) from each college.
Undergraduate Research Spring Symposium
Introduction and Keynote Address: 

 
1:00-1:10 pm
Poster Presentations:

 
1:15-2:30
 pm
Oral Presentations:

 
2:40-4:30 pm
Awards

 
4:40-6:00 pm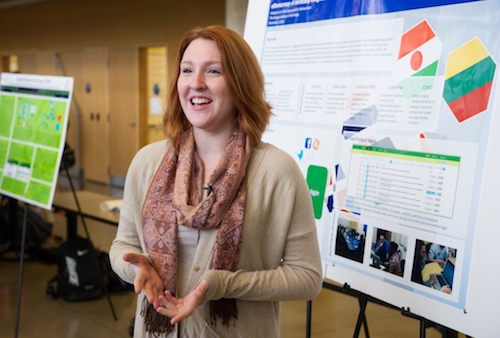 Students may apply to present either a poster presentation or an oral presentation.
Undergraduate students can present either individually or as a team, and a team presentation may have a maximum of six students participating.
Only currently-enrolled undergraduate students are allowed to present at the symposium. Graduate students, post-docs, and faculty are not permitted to present and should not be included on the application.
Applications are accepted on a first come, first served basis. The faculty mentor listed on the application must be associated with a school or department at Georgia Tech.
A student must complete the online application form in order to apply to present at the symposium. A short abstract (max. 250 words) of your research is required as part of the application.
For multiple students interested in co-presenting, please note that only one application should be submitted per team.
The application window is now open. Accepted applicants will receive additional details on their participation mid-March, and oral presenters will also be notified of their presentation time slot and room number.